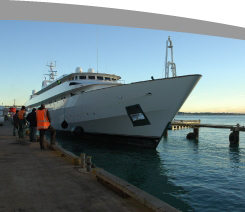 News
NZ Millennium Cup 2012 a huge success!
After three days of racing, 33.8m Silvertip, built by Yachting Developments, was declared the winner of the NZ Millennium Cup 2012. Also competing for the title were 32m Eclipse, 48.5m Georgia, 44m Imagine and 39.6m Janice of Wyoming, all built by Alloy Yachts.
Providing a real spectacle for viewers onshore, the battle for the Cup took place over three days of racing in the Waitemata Harbour and Hauraki Gulf. Despite an ominous weather forecast the New Zealand weather came through and delivered sunshine for the entire event. Day One saw Georgia take home line honours, and Day Two Silvertip took first place in both races. By the end of the second day, with three races complete, it was clear that short of a major upset on Day Three the regatta belonged to Silvertip, who led with just four points out of a possible 15. With Silvertip in the lead, the point differences between Georgia, Imagine, Janice of Wyoming and Eclipse were small, and Day Three was highly anticipated as a real decider race in the fight for the podium places.
Unfortunately, calm conditions on the final day led to the abandonment of the final race mid way through which meant that the results as of the end of Day Two stood, and Georgia was awarded second place overall, followed by Imagine, Janice of Wyoming and then Eclipse. The end of the regatta was celebrated with a Gala Dinner and Prize Giving at the Cloud on Auckland's waterfront.
To see some fabulous footage of the event click here to be taken to a clip on You Tube (it opens in a new window so you might need to disable pop up blocker). There is also a great article published in the Superyacht Report - download on the link below or click here to head to their site.
Superyacht Report Millennium Cup article

Integrated Marine Group was proud to be involved in this event. Not only were they Gold Sponsors but the entire project was ably coordinated by one of their team members, Amy Welch, as the Project Manager. With the event set to be held annually in Auckland Integrated Marine Group is keenly looking forward to the racing in 2023 already!