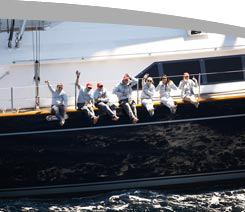 Qualifications
It can be daunting, when you first look into what is required to get into the superyachting industry. There are certain must have qualifications, a level of experience is also an advantage, but so often you just need to be in the right place at the right time! Below you will find a brief overview of what crew agents are asking to see on your CV and what you really need.
General
There are some qualifications that are role specific and other more general ones. ALL candidates would be expected to have their STCW10 Basic Training. This short course covers:
fire prevention and fire-fighting

personal safety and social responsibilities

personal survival techniques

elementary first aid

Security Awareness
It is an essential qualification for almost all yacht and superyacht crew for insurance purposes.
Other good certificates to have also include:
RYA Powerboat Level 2 – you will need to drive the tender at some point so this is a great qualification to have

RYA Day Skipper/Coastal Skipper/Yachtmaster

A Hospitality background – to show that you are good with people and can do the smiley happy thing 24/7!
Steward/Stewardess
Silver Service

Bar work or bar qualifications

Flower arranging

Previous experience in restaurant work
There are now some great 1-day and 5 day courses for interior crew on the market which cover table settings, silver service and other areas. Details of schools to try on our Crew Training Courses page
Deckhand
As many RYA courses as possible

Ideally your RYA Yachtmaster and definitely RYA Powerboat Level 2
Engineer
Some form of mechanic qualification

The minimum really is the MCA Approved Engine Course (AEC)
Whatever your role on board, as you get further up the ladder you will find there are more and more qualifications necessary to climb higher still. Our biggest piece of advice is that when you start working on the boats you keep a log book, signed off by the captain, which details all the miles you have done. You will need these in the future for your qualifications or to go up a level.
Other items to have on your CV
There are a couple of other items that crew agents will request from time to time, which include:
ENG1 –This is a Medical which is recognised by the Maritime and Coastguard Agency (MCA). There are a limited number of approved doctors around the world so Captains are always grateful if you already have this. It is often required for crew by insurance companies. It also tells them you are fit, healthy and not colour blind (essential for navigation).

A B1/B2 Visa – this is for entering the USA and means that if you are in the Caribbean you can come and go freely. Generally most professional yacht crew, depending on nationality, should be able to get one and they are usually granted for ten years.