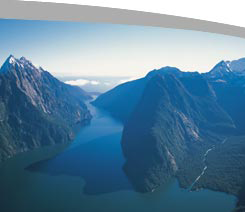 Cruising in New Zealand
In the heart of the South Pacific Ocean, lies New Zealand or Aotearoa: "Land of the Long White Cloud".
During the southern summer cyclone season, these islands are out of harms way, and with 18,000km of pristine coastline, sheltered bays, stunning fiords and abundant marine life, New Zealand offers something for everyone from idyllic cruising to world class refits. Auckland, New Zealand's largest city is known worldwide as the "City of Sails" and as such offers facilities that are second to none.
In the geological sense, New Zealand has had a colourful past. The ice age carved the exquisite fretwork of Fiordland and the Marlborough Sounds, huge tectonic forces pushed up the Southern Alps and volcanism on a fearsome scale shaped (and continues to shape) much of the North Island. The result of all this action is scenery to die for - a landscape jam-packed with interest. Wherever you travel in New Zealand, you will see spectacular scenery: from the glaciers to the alpine regions, rolling plains, rugged fiords and long white sandy beaches. You are guaranteed to be blown away by what New Zealand has to offer.
Integrated Marine Group are more than happy to put together detailed itineraries for Captain's and owners when planning a visit and cruising in New Zealand. Please email [email protected] for further information.