Destination
The mention of South Pacific islands evokes visions of warm seas, palm trees swaying to a tropical trade winds and hotel floor shows with bare-chested, tattooed warriors and ladies in grass skirts. But you won't find any of this in New Zealand. What you will find is pristine cruising, fishing & diving locations as well as vineyards, ski resorts, glaciers, thermal spas, stunning alpine scenery and a diverse range of activities to fill your days.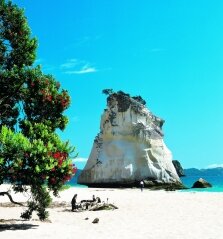 New Zealand is currently rated as one of the world's leading tourist destinations and for very good reasons. The country is diverse in geography, scenery and climate and is easily experienced without traveling large distances. For those with a love of the outdoors and hands on adventure, this is the place for you!
To a yacht crew, there are many things to enjoy here with the frequent regattas, superyacht Cups, and crew events. Great days off can be spent in the immediate vicinity of Auckland, or for a short flight you could enjoy world class skiing or adventure tourism that you will remember for a lifetime. Many crew members are so taken with the country they have purchased houses here!
New Zealand looks small on the charts but you will be surprised by the diversity that is compressed into the country and welcoming nature of the inhabitants. Those who have ventured to our beautiful country usually can't wait to return!!