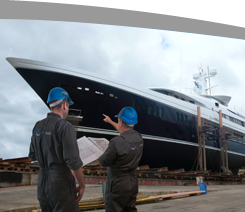 Carpentry & Joinery Services
Integrated Marine Group can cover any aspect of woodworking, joinery or interiors and interior furnishing.
The group presents the finest craftspeople with extensive refit experience in every aspect of interior and on deck work. This team has worked as key part of the Integrated Marine Group Team to produce outstanding results for our clients on every occasion.
Interiors
Custom Cabinet work to highest standards

Yacht Interior remodelling or modifications

Furnishings and upholstery

Surface refinishing

Wooden in-lays

Varnishing

Staining and French polishing

Marble and Granite work
Or any task - chance are we will have done it all before!
On deck
Teak decks

Custom furniture and detailing

Ladders, gangway and boarding platforms

Fibreglass and moulding work

Storage systems
In the shipyard or at the dock we can work seamlessly thorugh the most challenging projects.