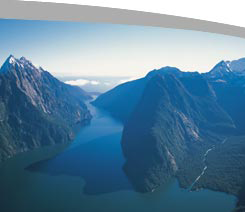 North Island Cruising
The North Island offers up some unparalleled cruising grounds. Whether you are visiting the Bay of Islands, home to New Zealand's original Capital Russell, or fancy some world famous snorkelling in Poor Knights Island, your owner or Charter Guests will not be left wanting.
The Hauraki Gulf and Waiheke Island
Within an hour's sailing from central Auckland there are a plethora of sheltered bays and the islands of the Hauraki Gulf. One of the larger islands, Waiheke, is just 14 kilometres from the heart of Auckland city. Home to many of New Zealand's successful artists, Waiheke has a long standing arts and crafts focus. And with more than a dozen high-quality vineyards, Waiheke is a wine lover's delight.
Within a short distance from Waiheke are many fishing & diving areas of the Noisey's, Rakino, Rangitoto and Kawau islands. In fact you could quite easily spend a week poking around while using Waiheke as a base for guests not wanting to go fishing & diving!

Great Barrier Island
Northeast of Waiheke Island lies Great Barrier Island. This sparsely populated 285 sq km island is one of the few untouched and un-spoilt places still remaining in the world. Over 60% of the island is national park, so be sure to bring your walking boots because the island's forests are laced with over 100km of tracks catering for every level of fitness. From a 30 minute gentle walk to the geothermal waters of the Kaitoke Hot Springs to a day tramp to the island's highest point, Mount Hobson (621 metres) and the historic Kauri dams.
The coastline also provides a diversity of habitats for aquatic plants and animals. The Barrier's location on the edge of the Pacific Ocean means that its waters contain all manner of unexpected visitors from whales and pelagic fish to manta rays and turtles.
Heading South - Mercury and Alderman Islands
South of Great Barrier are the Mercury Islands, the Alderman Islands and Tauranga Harbour. The Mercury Islands offer spectacular rock pinnacles, caves and drop-offs in 8-30m visibility. The underwater terrain is exceptionally varied throughout the Islands. The Aldermans offer similar spectacular underwater geographic features. Underwater the life is prolific and there have been some unusual sightings over recent years such as Queensland Grouper and Orca. Big game fish are often seen along the drop-offs. Tairua Reef around 22km offshore has stands of black coral and myriad schools of fish.
The mainland further South
Heading further south, Tauranga offers access to New Zealand's active marine volcano, White Island. Helicopter inland to the Waitomo Caves & go caving. How often do you get to abseil 400m into a cave & blackwater raft out? Close by are the towns of Rotorua – the cultural capital of New Zealand and Taupo - New Zealand's largest lake & trout fishing mecca. Lunch at New Zealand's premier luxury retreat, Huka Lodge is spectacular. Depending on the season, Taupo can offer hunters Red & Sika deer, duck shooting, turkey shooting and wild boar hunting also.
The Poor Knights Marine Reserve
If, on the other hand, you travel north from Great Barrier Island you can stop off at the Poor Knights Marine Reserve. These Islands were named by the inimitable Jacques Cousteau as one of the top 10 dive sites in the world. They are influenced by a warm current that originates in the Coral Sea, north of Australia. Water temperature is higher, and visibility significantly greater than in nearby coastal waters. Tropical and subtropical life forms have become established among the diverse and multiple environments formed by the island's volcanic origins. Underground caves, tunnels and archways are home to an extraordinary variety seaweeds and dense populations of friendly, colourful fish. The mixture of tropical and subtropical sea life, and the clarity of the water result in an underwater environment that is truly unique on this planet.
Nearby are another 2 great dives. Two former Navy ships, purpose sunk for diving excitement, prepared and maintained for easy access penetration diving. HMNZS Tui, formerly a US Navy ship which protected New Zealand's anti nuclear protest fleet at Mururua and HMNZS Waikato, a Leander class frigate, complete with guns and helicopter hanger. Penetrate the wrecks through purpose cut access and exit point, and explore control rooms, bridges, crew living quarters and engine rooms via established routes.
The Bay of Islands
A half day north of Auckland is the Bay of Islands, without doubt one of the most favoured cruising locations within New Zealand. With 144 islands and bays this area is a world-renowned tourist destination. Towns that make up this area include Opua, Paihia, Waitangi & Kerikeri, and you will also find the original capitol city of New Zealand Russell. From Kerikeri, flights can be made to West Coast for expeditions on Quad Bikes, BloKarts (Micro Land Yachts), Mountain Bikes, On-Top Sea Kayaks and more in the backdrop of the world famous Ninety Mile Beach or enjoy a spiritual experience and visit to the greatest Kauri Tree of them all – Tane Mahuta.
Just north of the Bay of Islands lies another dive wreck. The Rainbow Warrior was Greenpeace's flagship on its way to protest France's nuclear testing on the Mururoa Atoll when it was sunk by French Navy saboteurs in 1985 in Auckland Harbour. Three years after the bombing Greenpeace gifted the Warrior to the sea and she now lies as an artificial reef in the Cavalli Island group, a refuge for the marine life she was sunk trying to protect. The Warrior is now home to a huge variety of aquatic life and is a world renowned dive site. The Warrior is an amazing dive and truly is the 'Jewel of the North'. Nearby is the stunning Kauri Cliffs Lodge where you can play a round at one of the world's most spectacular golf courses.
The final harbour north is Whangaroa Harbour and has without doubt one of the most productive Marlin Fishing grounds in New Zealand. Whangaroa is world renown for its spectacular scenery, safe anchorage and for having the largest Striped Marlin in the world. Whangaroa is used as a launching point to the Three Kings & Middlesex Bank fishing areas.