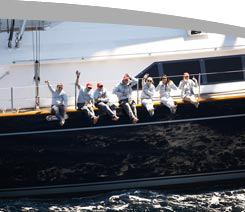 A Few Further Hints and Tips
Here are a few final hints and tips to aid that job search!
Most yacht crew have been where you are so when you are walking the docks don't be embarrassed as they have probably done it at some point too

You will have to start at the bottom. Your current Captain or Chief Stew was probably a deckie or Stew no 4 once upon a time! Put the hard yards in and you will soon start moving up the ladder

The industry is actually surprisingly small! Captains and crew move around a lot and love to share stories. Prove yourself to be a good worker and people will start talking about you and try to help you find a job

The same goes if you don't work hard; Captains will soon find out this too!! Yacht crew play hard but they work hard too so don't turn up for work hungover and useless!

Jobs won't just come to you. You have to be proactive and get out there

Sign on with lots of crew agencies, but never pay to join an agency. For many crew agencies though you will need to attend an interview; if you are going for an interview dress smartly and appropriately.

Saying that, many Captains will avoid using Crew Agencies wherever they can to save money so visiting as many boats as possible is still necessary!

Try to stick at each job for a while. Candidates who have frequently moved from job to job are often ruled out. Longevity looks great on a CV.

With most contracts you will be given a three or four month probation period. It gives both you and the boat some time to get to know each other. If the boat is not right for you, or you dislike it, leaving at the end of, or during, your probation period is perfectly acceptable.

Don't let a bad boat put you off. Talk to any crew member and you will find they have spent some time on a boat which didn't work for them. It can be for many reasons; poor captain, old boat, bad itinerary, personality clash. Just put it down to experience and know that your next boat will be better!!

Go out there and have a ball!!
For more information please contact Alison Walker at Integrated Marine Group on +64 21 608 278 or via [email protected]