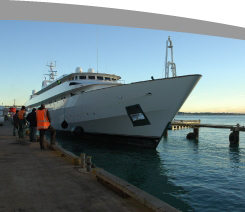 News
Charter Laws in New Zealand
Captains and Owners have for many years tended to keep their yachts on the 'milk run', going from the Med to the Caribbean and then back to the Med. It makes for an easier life with familiar cruising grounds, knowledge of where to source provisions and supplies, and new crew are readily available. But above all owners are able to charter their vessels to recoup some of their costs. Here in the Pacific Region we have been encouraging vessels to visit and discover this new and somewhat unspoilt region. However the existing lack of charter possibilities has meant for many owners the costs are too daunting.
Over recent years an increasing number of Pacific countries have opened up their waters for chartering. In Tahiti vessels have been able to charter since 2008and laws were passed in both Fiji and Tonga just this year to establish a charter scheme. With the Rugby World Cup in 2011 approaching Maritime New Zealand decided to look at the Charter laws here and Integrated Marine Group are proud to announce that, with immediate effect, yachts with less than twelve passengers can charter in New Zealand!
There is a straight forward procedure for any yacht wishing to Charter here in New Zealand. The yacht must apply for Certificate of Recognition from Maritime New Zealand by submitting various documents to the Director of Maritime New Zealand and paying the fee of approximately $500NZD (depending on the information Maritime New Zealand need to review). Should the ships papers be accepted the issued certificate will be valid for two years.
This is fantastic news for New Zealand's Marine Industry and Integrated Marine Group look forward to welcoming more Yacht and Superyachts to our shores! For more information please contact our Yacht Support Manager via