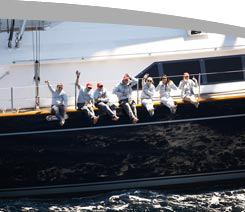 How to get into Superyachting
As a Crew Placement Agency we are often asked the same questions time and time again. We therefore decided to put together some answers to these frequently asked questions which we hope will help all aspiring crew live their dream!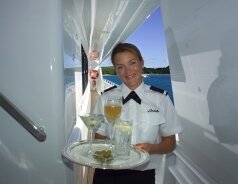 Myths
So you think you want to work on boats because it's glamorous? Well let's start off by letting you know what the industry is all about...
Working on Superyachts can be fantastic. You get to travel, you meet great people, the salary isn't too bad and if you are on Charter the tips can be awesome. But it is HARD work. The hours can be long, the tasks can be mundane, often you won't actually get to see any of the places you visit. As an entry level Stew, for instance, you might spend all your time in a windowless laundry!
Then it comes to living on board. Your living space might be small and you might not get on with all the crew. Sometimes the boat you end up on might just not be the right boat for you due to conflicting personalities. Yachting is fairly unique in that you have to work and live with the same people day in, day out, and they might not be the kind of people you would choose to live with!
That said for many people fortunate enough to have worked in the industry it is some of the best years of their life. The social life is amazing and you will have some fantastic experiences. Just make sure you realise before you get on your first boat that you are there to work!
For a firsthand overview of what it's really like, and to see whether you are cut out to be Superyacht Crew, check out the following articles and links:
Owen and Amanda's run down on what Superyachting is really all about: Make Money and Travel
Jo Morgan's Superyacht Crew: Is it the right Job for You?
And as a bit of fun: Behind the scenes with a Superyacht Stewardess
Private v Charter
It goes without saying that superyachts don't come cheap! In order to run their yacht efficiently many owners not only use them privately but also hire them out for charter. This can mean a crazy busy season, with back to back charters and barely time to breathe. However many crew prefer this; it means you don't spend your days sitting in a harbour waiting for the owners to arrive, cleaning clean things! And the tips can be great.
Motor or Sail?
So you love sailing? Doesn't mean that working on a sailboat is the right thing for you. There are subtle differences, and many crew opt to have sailing as a hobby and a passion and yet work on a motor boat. There are some general differences laid out below; it is not the case with EVERY BOAT but usually you will find:
Motor yachts
Have bigger cabins and crew areas

Employ a larger crew, so you are more likely to meet at least one person you get on with!

Pay a higher salary!
Sail yachts
Have a more varied schedule, often going to some out of the way, off the 'milk run' locations

Enjoy some great sailing and get to take part in Superyacht Cups and Regattas

The salary is lower as people do the job for passion
Where to find these Superyachts ...
There are certain schedules that the boats tend to keep to due to tides and weather. The main superyacht havens and seasons are as follows:
The Mediterranean
The Med season runs from late April to October

The main bases to find work are Antibes in France or Palma, Majorca

People start flocking to the med to find work in April

Coming to Antibes or Palma at the end of the season (October onwards) is also an option as you might find yourself a boat for a Transatlantic crossing to the Caribbean
The Caribbean Season
Boats start to head towards the Caribbean from late October onwards

The main hangouts in the Caribbean are Antigua or St Maarten

The season ends in late April, when yachts will most likely head back to the Med
The Med – Caribbean – Med schedule is the one most frequently used and is known as the 'milk run'. Saying that the recent Worldwide Economic Crisis has affected this industry and many boats are tending to spend the summer cruising the Med and then downsizing the crew to sit in a harbour for the winter rather than going to the Caribbean.
The States
Some schedules might include some time in the States

East coast – after the Caribbean you might find yourself on the East coast, heading to Florida or even New York

On the West Coast there is some great cruising and some good refit facilities. Many boats end up in San Diego for refit works

If you're lucky you might get to go to Alaska!
The Pacific
Many crew dream of eventually getting to the Pacific

The general itinerary is: after the Caribbean a boat will transit the Panama Canal (March/April)

They might visit the Galapagos Islands, and then head on to the Pacific Islands such as Tahiti, Fiji, Tonga etc.

The best time to be in the Islands is May – September

After this time boats often head to Australia or New Zealand to enjoy their summers' (November- April)

Some boats choose to refit in Australia or New Zealand, which can be done all year round