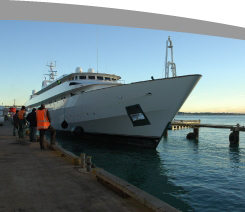 News
Another season wraps up for IMG but they are still pretty busy!
As the season draws to a close and the days get shorter, many boats are getting ready to head for more tropical climates. The Yacht Support department is very busy helping the yachts stock up before their departure; whether it's provisioning, deck supplies or fuel, the girls are taking care of it. Nothing like stocking up on tasty Kiwi produce and premium wines to enjoy along the way. But a few boats are busy buying sweaters for the crew, who will stay on for potentially their first winter in years!! These yachts staying behind to undertake refit projects.
The refit team has been really hard at work this season, possibly the busiest ever. During the two visits made by MY Elandess the Refit team got on with as many tasks as they could squeeze within the stopover schedule. SY Giriz left in November having completed a large scale refit and early in the New Year SY Shamoun came out of the yard after full paint job by the IMG team. No sooner had the works on Shamoun been completed than MY Seawolf arrived ready for her scheduled work. This project is just drawing to close with very impressive results showing yet again the quality of the IMG teams' tradespeople.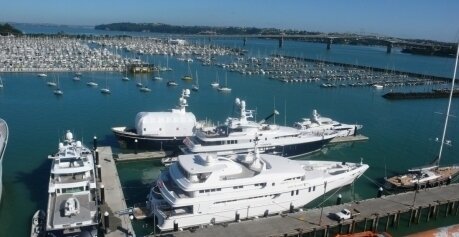 The current project however that will keep the team busy through our winter is MY White Rabbit Echo. This 61m Motor Yacht is having a full paint job carried out by IMG, and on sheer volume alone this is among the biggest paint jobs to be carried out in New Zealand to date. With the yacht presently in the water under a huge tent structure it has been drawing many comments from passers-by in its central city dock, resembling something out of StarTrek rather than a Superyacht under its cloak. Whilst work is carried out on the exterior the yacht will also be carrying out many interiors projects which are well underway.