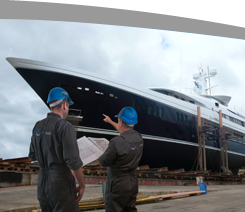 Yacht Painting Services
Keeping paint systems looking their best is a constant challenge for any Superyacht. While all other trades are all equally as critical to the success of any refit project, the paintwork is one facet that is judged most harshly and ultimately done so by the person that counts most; the yacht owner.
Integrated Marine Group recognises delivering top quality paintwork results to be one of the most critical elements of their refit programmes. The group has systematically refined a highly skilled and efficient paint team prepared to meet the toughest challenges and always deliver top quality finishes on every project. This team has met the mark on every project to date.
At Integrated Marine Group we can undertake every type of paintwork work maintenance, repair and refinishing from preparation blasting & priming through fairing to the finished paintwork or any part thereof.
We can work with most paint systems to finishes under the Dutch HISWA / COT Standard for Luxury Yachts Coating Work (2007) guidelines.
Current Projects
M.Y. White Rabbit Echo Full repaint all areas
M.V.Seawolf Superstructure and topside selected areas
M.Y. Elandess minor paint repairs
Recently Completed Projects
S.Y. Shamoun Topsides and Mast / Boom repaint
S.Y. Giriz II Full vessel repaint and Booms /Masts