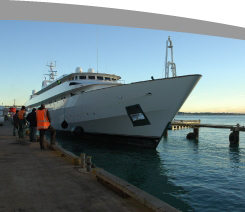 News
New Training Opportunities for Interior Crew
Until now there has been little on offer beyond 1-day courses for interior crew in New Zealand, despite three dedicated schools in Australia. Blue Nation has been formed by two ex-superyacht crew, Claire Boggiss and Katie Williamson, both with a long career in yachting and previous experience in setting up training courses for crew. "Both Katie and myself, have both moved to being land-based but never left the industry. We are passionate about the superyacht industry and want to make it more easily accessible to young New Zealanders", says Claire.
Blue Nation are working with the Professional Yachtmen's Association (PYA) in Antibes and New Zealand's leading hospitality professionals to provide essential stewardess training. We will be offering a 5-day Professional Stewardess course encompassing the essential modules such as Silver Service, Floristry, Wine and House-keeping with extra 1-day courses available in Barista Training, Food Hygiene and Tender Driving.
Intermediate courses are also available in Wine, Cocktails and Floristry for visiting crew. Blue Nation offers a New Zealand Wine Introduction with food matching for visiting stews and chefs. Wine & Spirits Education Trust (WSET) wine courses are also offered over the summer as well as a 2-day floristry course, which starts with a trip to the local flower market.
For more information and course dates go to www.bluenationcrew.co.nz or email