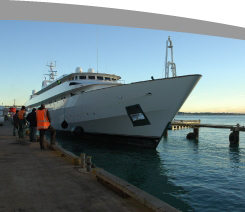 News
New Manager for Yacht Support and Crew Placement division
Integrated Marine Group Yacht Support is pleased to announce the appointment of Rachel Harrison as the new manager of our Yacht Support and Crew Placement division. Rachel has worked for Integrated Marine Group for 18 months in this field and had previously crewed on large yachts making her very capable to undertake this role.
Jeanette Tobin, who was formerly in charge of the Yacht Support Services division, has formed her own boutique Yacht Support Services company to fill a market segment that Integrated Marine Group could not cater for. This was a very amicable arrangement to allow Jeanette to pursue a long held ambition and IMG wishes her well in these endeavours.
For any Yacht Support or Crew related enquiries please do not hesitate to contact Rachel Harrison via:
or on +64 9 377 2142.