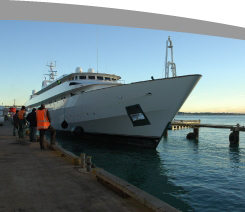 Following the success of last season's inaugural IMG golf challenge a follow up event was held on 30th November 2010. Gulf Harbour Country Club performed a fantastic feat once again by providing perfect conditions for our tournament - although a little overcast in the morning, the clouds cleared by the afternoon for spectacular views of the Hauraki Gulf, but most importantly there was not a breath of wind.
Our first golf tournament at the end of last season was a resounding success. Here at IMG we had decided to build on that event, with the aim to not only double the players but to raise funds for charity. To make the event more beneficial for our sponsors, and to be at a more convenient time when the super yacht crews are not having to worry about the owner's immenint arrival, we moved the golf day to the beginning of the season. This was certainly a worthwhile change, with 56 players from various marine backgrounds attending. A third of our golfers were visiting yacht crew and captains, whilst the remaining players were from the many and varied marine companies based here in Auckland.
We were grateful to fifteen of these companies for providing much needed sponsorship to reduce our overheads and therefore raise the money for the charity pot! These sponsors earned the right to adorn their assigned tee or hole with signage, and also had a write up the information for players handed out at the beginning of the day (a copy of this brochure can be viewed by clicking on the link below). We also had some fantastic prizes donated from many of these companies – details of these sponsors and donators can be seen at the bottom of this page.
Brochure for players 30th November 2010
The schedule was similar to our previous event. Players arrived at 9.30 to register and mingle whilst enjoying morning tea. After a welcome by IMG Managing Director Mark Wightman, players were given a briefing by the ProShop. It was then to the carts to head out to the course for a shotgun start. We were playing with teams of four using Ambrose rules. Most of our golfers had signed up as a full team already, but individuals and pairs were also welcomed and assigned into a team prior to arrival. Players refuelled at a half way barbecue, and were kept hydrated (!) by the three drinks carts circulating the course all day. By 3.30pm all players were back at the 19th hole for beverages, finger foods, and of course the prize giving.
The prize giving began with the usual hilarity over funny antics observed on the day. Spot prizes were awarded for: a player who tee'd off and then caught his own ball, a drive that reached the roof of a house rather than the green, and some further interesting techniques including the use of an empty beer can rather than a tee... After that our attention turned to the much anticipated serious results, which were as follows:
| | |
| --- | --- |
| Award | Winning player/team |
| First Place | Hall Spars & Alternative Car Rentals |
| Second Place | Whiting Power Systems |
| Third place | Auckland Engineering Supplies |
| Longest Drive 1 | Craig Furlong |
| Longest Drive 2 | Alan Brass |
| Nearest the Pin 1 | Dave James |
| Nearest the Pin 2 | Ross Vickers |
A detailed table of the adjusted net scores can be viewed by clicking here.
IMG CGO Open results 30th November 2010
From the serious golfers (with the lowest handicap this year being 4!) to the non golfers, a great time was had by all. And Coastguard were happy – our efforts this year have raised around $1,500 for them. Momentum is building already and we anticipate an even bigger event when we run the IMG Golf Open on the 17th November 2011! We hope you can join us.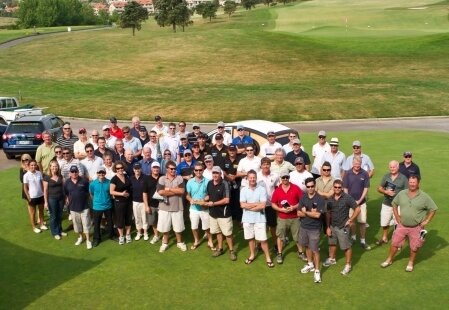 Please click on the link below to see more photos from the day:
IMG Charitable Golf Open Photo Montage
Prizes were kindly donated by: