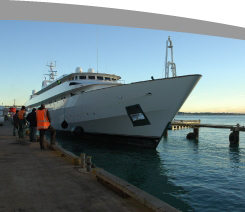 News
New Super Yacht Marina opens in Auckland ... and is almost full in the first week!
Auckland, the city of sails, has been home to many superyachts over the past few years. But with boats getting bigger and more advanced, our facilities started to look a little out of date and tiny! This all changed in October 2010 when the new marina opened its wharves.
When New Zealand was due to host the Americas cup in 2000 it became apparent that the facilities here were not capable of accommodating the numerous yachts wanting to view this spectacular event. Large scale development ensued and the result was the Viaduct Marine Village, home to Superyachts ever since. However such yachts have doubled or even tripled in length since and as a result berthage has proven difficult for some. Many of the larger yachts (over 55M) have had to make do with the commerical docks or public docks which is far from ideal. For example a 66M Motor Yacht recently moored on Princes Wharf found it interesting not only for access (a nightmare and nigh on impossible to get on and off the boat!) but also for the colourful, slightly inebriated visitors who would pay them a visit in the night.
All this is in the past with the opening of our new marina. With three 90M berths and one 70M berth this was the ideal mooring option for SY Athena when she arrived in October. Within days she was joined by MY Itasca and SY Erica. These facilities have been well thought out. The pontoons are wide enough for golf carts to access easily, the power points are well located, it is secure, and everything the crew might need is right there.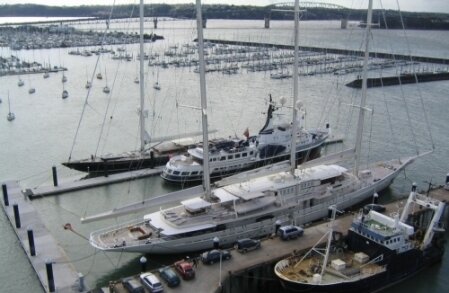 These are not the only developments currently underway however. With the Rugby World Cup scheduled to take place in New Zealand in September/October 2011 a variety of improvements are being carried out from the new Events Centre on the Fishing Wharf to the promenade and public spaces on the North Wharf. Longer terms initiatives are set to encompass park areas and further moorings. All this should be a fantastic area for visiting yacht crew to call home, even for a brief time.
New Zealand is always a favoured destination for yachts and their crew and here at Integrated Marine Group we are here to help you enjoy your stay. If you are considering a visit to New Zealand please do not hesistate to contact us for advice and assistance with bookings for berthage, facilities, services and supplies, or even cruising itineraries. For futher information contact Rachel Harrison via .