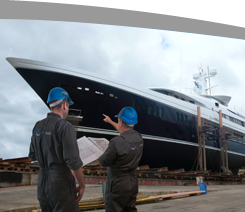 Other Maintenance Services
Yard Warranty Assistance
Integrated Marine Group provides a highly cost effective means for ship and yacht builders to conduct after sales or warranty repairs out of their normal geographic range. We can provide skilled and efficient tradespeople or labour resource to work under the guidance and direction of the representatives from the build yard to ensure the job is done right. We provide significant cost saving for other shipyards who may have to fly their own staff half way round the world and accomodate them to get the job done. We have the skills and experience to undertake most jobs and give a quality guarantee to allow the yard to fulfill its obligations to their client.
Pacific Islands Support
We can dispatch skilled and experienced field technicians or service teams throughout the Pacific region if required to diagnose and repair problems. This resource can be particulary useful with Propulsion, Power generation, Airconditioning or similar critical systems where faults may may prove game stoppers for valuable charters or planned cruises.
Keep this in mind - this might get you out of a tight spot!
Emergency Parts and Spares
Our Yacht Support Service can also arrange delivery of urgent spare parts or consumbles, to most Pacific destinations transiting the vast Pacific region.
The city of Auckland acts as an important hub for airlines flights to and from most of the South Pacific nations. We are well resourced to supply a wide array of marine products, parts & accessories from product ranges found in few yachting ports around the world.