Superyacht Crew Placement
A 'boutique' crew placement agency
Integrated Marine Group provide experienced and capable candidates in the positions of Captain, Engineer or Crew onboard yachts. We maintain a comprehensive database of potential candidates and are able to respond quickly and efficiently to new placement demands. We screen applications, conduct preliminary interviews, and check references plus make it our job to understand the bigger picture of the yachts operational requirements and personality mix required to fit into a team environment.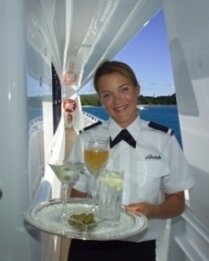 Unlike other crew recruitment agencies IMG truly believes that the right placement relies heavily on fitting the personality to the role. Obviously qualifications and experience are important, but put the right character on board and it will result in a winning team. Ours is a 'boutique' style agency, whereby we aim to meet all candidates, wherever possible. IMG only ever present candidates we believe will make a good fit; we do not wish to waste an owner or Captain's valuable time on irrelevant interviews with unsuitable candidates.
Yachts Seeking Crew
If you are an Owner, Yacht Manager or Captain seeking qualified and professional crew, please send us an email giving a brief description of the role; the size, type and itinerary of the vessel; and any other requirements you may have.
Our fees are highly competitive:
Commission on a full time placement 5% of the annual salary

Commission on a temp placement 15% of the total earnings
In any full time placement there is a three month probation period, so that in the unlikely instance that the candidate does not work out a replacement will be sourced at no extra cost.
Candidates Seeking a Position
Integrated Marine Group is proud to have placed many grateful crew on yachts over the years. We have many emails from Crew as testament to this, including:
"I must thank you again for getting me this job I really appreciate it. Thank You!"
Benjamin Todd
As well as a great quote in an online article:
"Owen has used a fantastic crew agent in New Zealand. Rachel Harrison at IMG in Auckland is the greatest" (full article http://www.gonewiththewynns.com/make-money-travel-boating-charter#sthash.asx29QS1.dpuf
Budding crew should really know what it is all about before they enter the industry though, the there are some great helpful hints and tips under the 'How to get into Superyachting' and 'CV Advice' link on the left. Once you have looked at both of these click on 'Crew Registration' and follow the simple steps.
Please note that we pride ourselves on interviewing candidates wherever possible. With our location in Auckland, New Zealand, priority will be given to candidates in Australia or New Zealand who can attend an interview.
For more information contact the team at Integrated Marine Group via [email protected]