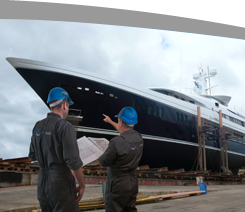 Yacht Refit New Zealand
Refit and Repair services
Integrated Marine Group specialises in superyacht refits, Auckland New Zealand. We offer the complete range of services expected to meet the most demanding requirements of Refit, Repair and Maintenance aboard Superyachts and Expedition vessels.
We cover all aspects of refit and repair, from routine repairs & maintenance through to very complex refits, optimising the client's available time and budget to best advantage.
Refits don't have to be hard and unpleasant, with a great team involved from the top to bottom utilising highly experienced staff with a make it happen attitude, it will transform the process for you. We have such a team and our clients will readily bear testiment to that.
Our core Refit & Repair services include:
Vessel Painting ( wet berth and shipyard)

Interiors ( all services)

On deck systems ( all services)

Mechanical Engineering

Electrical & Electronics

Plumbing & Domestic Systems

Hydraulics

Navigational Equipment

Galley & Domestic Services

Slipway or Docking periods

Safety Systems & Class Surveys

Design

New Build Vessel Warranty repair support sevice for Shipyards
For more information or enquiries please contact