New Zealand superyacht specialist Integrated Marine Group (IMG) is proud to be celebrating 10 years of business in 2014. Founded in 2004, IMG has built itself a solid reputation as superyacht agents and specialists in superyacht refit, service and repair in New Zealand and the South Pacific. The company has also forged good commercial ties, with their recent investment into Shipco 360, a Whangarei-based facility specialising in commercial work.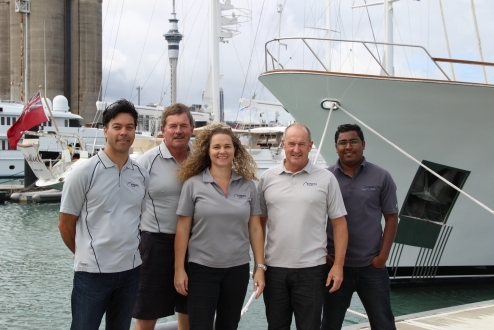 The IMG team (l to r: Dave Low, Tony Whiting, Rachel Harrison, Mark Wightman and Munesh Sharma)
Led by Managing Director Mark Wightman, IMG has a highly experienced long-standing team and strong core values, which Wightman credits for the company's success. "Our team is at the heart of all we do," he says. "We have always stuck to our principles and our core values focusing on quality and dependability. These are the kind of things that help a company to outlast others, and we are very proud that we have always had great feedback from those who use us." As well as their own central team, IMG also works with a proven network of longstanding partner companies to ensure their consistently high standards of work are always maintained.
IMG has gone from strength to strength over the years, with several initiatives enhancing their global roots. The yacht support division has worked with, and undertaken exchanges with Lunautica, based in Nice, Hamburg and Valencia. In 2012 IMG also partnered with Spanish yard Atollvic to provide a global full-service offering to yachts in their network. One yacht that has taken full advantage of this service is 58m M/Y Seawolf, which is now in for her third refit with the companies since the partnership was formed.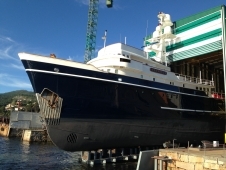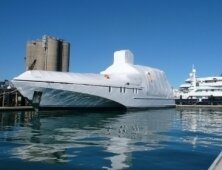 Every project the team has worked on has been unique, and understanding the custom nature of the superyacht industry has been an important factor in IMG's wider success. "All the projects we have worked on have been notable in their own way," said Wightman. "It is always a privilege to work on and with these incredible yachts." Over the years IMG has maintained a high number of repeat customers, which Wightman says is a hugely gratifying testament to the quality of service that IMG offers.
One repeat customer is the Royal Huisman-built 58m S/Y Ethereal, which visited New Zealand for the two consecutives summers of 2012/2023 and 2023/2014 "The owners decided to visit New Zealand because of the the beautiful and dynamic cruising on offer, but also due to the unparalleled quality that the marine services there have to offer as well," said James Turner, relief captain/first mate. "Each occasion involved owners cruising along with significant refit/maintenance and survey work and during each of our visits we enlisted the invaluable assistance of Integrated Marine Group. The IMG team gave us not just reliable, efficient and quality workmanship at a competitive rate but also fantastic shore side and logistical support ready at a drop of hat. Furthermore IMG assisted with the budgeting and financial side of the refit work, which in turn saved a lot of time, effort and stress."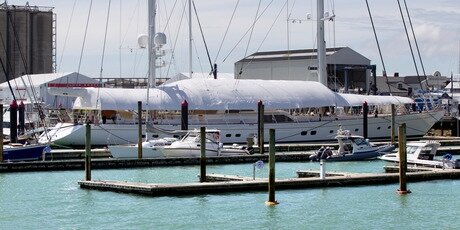 The IMG team is now looking forward to the next ten years of business, with a busy workbook ahead. Upcoming projects include refit work on the 42.5m Royal Huisman-built S/Y Juliet, a repeat customer of IMG, and 73m SilverYachts-built M/Y Dragonfly.