Integrated Marine Group, the New Zealand based specialist superyacht refit company, has completed the major refit of 61.4m trimaran White Rabbit Echo, which included their biggest paint job to date. The completion of the project crowned a busy and successful year of refit for IMG, who also completed projects on 33m S/Y Shamoun, 58m M/Y Seawolf and 60m M/Y Elandess, accumulating over 210m of refitted vessels during 2012. Complementing their refit books, IMG's yacht support division also enjoyed a strong 2012, with the busy summer season currently in mid-swing.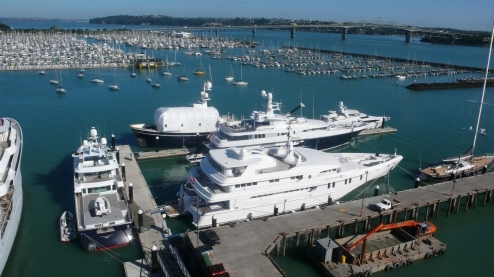 It is IMG's strong reputation for refit, and experience on a wide range of large refit projects, that first attracted the management team of White Rabbit Echo and their decision to travel the distance to New Zealand, over local refit options in Asia, is a real testament to the full package that IMG offered this project as a refit facility.

White Rabbit Echo arrived in Auckland in January 2012 where she enjoyed two cruises of New Zealand's North Island before settling down to her refit which began in March and finished in October. This time cruising allowed guests to experience the best of New Zealand's coast lines, ably assisted by IMG's concierge team which is led by support agent Rachel Harrison.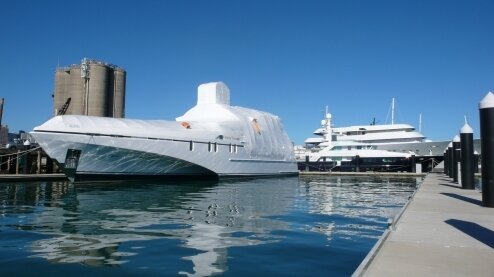 Work done on the yacht included an interior refit and an extensive paint job with a top quality finish. The brief was for a modern, clean interior that alleviated the former angular lines of the main salon and dining area, and an exemplary new exterior finish across 3,600m2 of surface area.

The refit team, project managed by Dave Low, coordinated different aspects of the project to get the work done on time and as efficiently as possible. Low describes a multi-pronged approach:

"The initial 10 weeks was spent alongside at the Silo Wharf work berth where the superstructure was closed in. This allowed us to work on and complete all the inner superstructure, bulwarks and scuppers. On completion of that stage the vessel was hauled and spent a further 12 weeks on the hard, painting the outer superstructure, combings and hull, with extensive fairing and painting of the tunnels. All of the underwater engineering and survey works were carried out concurrently during this time."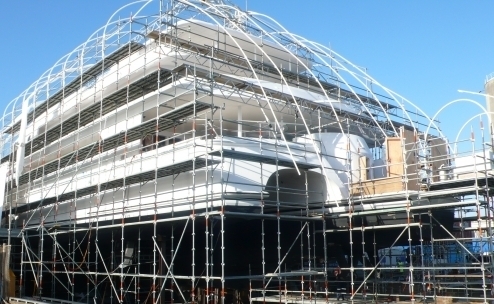 The interior brief was to almost completely refurbish the main salon and dining area, working from concept design sketches. "Our team had to figure out how to physically dismantle the existing interior and build to the new design. In addition to this, there were four or five pieces of custom furniture that were built from scratch in the same way and it was up to the joinery team to make the finished product functional and practical."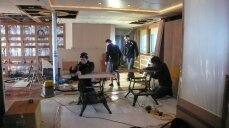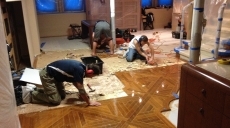 Mark Wightman, Managing Director of IMG says that while he is always proud of the quality work carried out with the IMG refit team, this project in particular resonates. "The final finish of both the interior and exterior of the yacht was exceptional. And all who viewed the finished product, including some of our competitors, agreed."

"This was a particularly satisfying and enjoyable refit, working with a great crew and management team to achieve overall, a very satisfying result."
White Rabbit Echo - Specifications:
Builder: North West Bay Yachts Ltd (Australia)

Year of build: 2005

LOA: 61.4m

Beam: 15.4m

Draft: 3.56m

Naval Architect: North West Bay Yachts Ltd

Exterior Designer: Sam Sorgiovanni

Interior Designer: Sam Sorgiovanni

Overview of refit work done:

- Full exterior paint job

- Interior refit work, focused on the main salon and dining space

- Engineering Works

- Survey Works