With the arrival of more and more yachts each season in New Zealand it is becoming a popular cruising destination for superyachts and their owners. Whilst many yachts choose to stick with the tried and tested cruising grounds of Auckland and the Bay of Islands, some are now looking to venture further afield. With that in mind I was tasked with heading down to Queenstown and the surrounds to check out what it has on offer for the VIP market.
You may think it strange that we chose to head to Queenstown for it is landlocked and whilst it has a lake it is not somewhere Captains can take their yachts! However our focus here was twofold. Firstly the reputation of Queenstown for visitors is well known and it is a place many wish to visit when they venture this way. Frequently we have had guests add on a trip to Queenstown and the surrounds after their charter up here in the North Island. But secondly, and more importantly, we are getting increasing enquiries for information on chartering in Fiordland. We have put together Cruising Itineraries for the area previously but to really be able to offer support we felt it was imperative that we meet these key contacts firsthand. I have to admit I was pleasantly surprised with my findings in the South Island!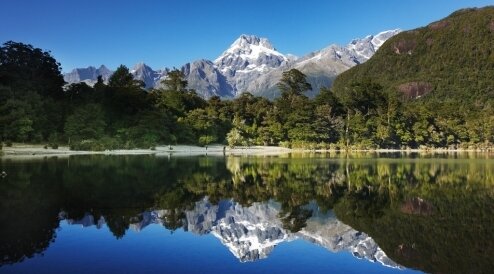 Queenstown
Queenstown is one of New Zealand's top visitor destinations, sitting on the shore of Lake Wakatipu among the dramatic Remarkables Ranges. In the summer months it is teeming with adrenalin junkies paying homage to the site of the original bungy jump, and in the winter it is a skiing mecca. But Queenstown has so much more to offer, having some of the best options in New Zealand for the discerning traveller.
For yachts intending on cruising in Fiordland it is likely that the guests would fly down to Queenstown before joining the vessel by helicopter. Therefore a key task on my schedule was to check out the accommodation options. Queenstown has a raft of these, from boutique and high end well known hotels to unique lodges and private villas, some rated the best in New Zealand. I was warmly welcomed at all of the places I visited, all of which has something different to offer. The hosts were accustomed to looking after VIPs, offered great advice on things to do, and were a wealth of knowledge. I even managed to sample one of the boutique hotels first hand with an overnight stay in a beautiful hotel right on the shore of Lake Wakatipu in the heart of Queenstown. Ultimate indulgence!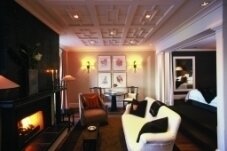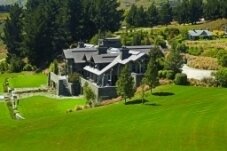 During my time in Queenstown I met with helicopter companies, transport companies (one of whom picked me from the airport in their Bentley) and guides. It seems that all too often time spent in Queenstown is too short, with a wealth of activities including hunting, fishing, tramping and trekking, nature walks, cycle trails or simple sight-seeing. The jet boat was invented here in the South Island of New Zealand and features heavily in this area. In fact it is the only way to explore the braided Dart River, nestled in spectacular scenery used in a wealth of adverts and movies from Lord of the Rings to Bollywood, is on a jet boat. I was lucky enough to enjoy a jet boat trip on the Dart River on my final afternoon. For the females wanting something a little more leisurely I suggest a visit to the lovely town of Arrowtown with its boutiques and cafes, before heading to a fabulous spa and perhaps some private shopping including the chance to meet a clothing designer in Queenstown.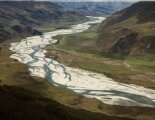 Over recent years Queenstown has seen an improvement in its dining scene. From French Restaurants to fusion and Thai there are many options for your guests to choose from. And with celebrity chefs starting to open up their own establishments in the city it can only improve further. I sampled a few menus during my trip and was suitably impressed ... a particular highlight was the Chef's Recommendation Lunch at Amisfield winery.
This region is Pinot Noir Country and a short drive out of Queenstown takes you to Gibbston Valley and Bannockburn. Both have a fantastic array of wineries to visit, many in spectacular settings. Guests can arrive by helicopter, stopping in the mountains on the way, and continue back to Queenstown by road. One other winery that I visited for lunch takes great pride in its slightly unusual lunch with wines matched to foods that have been cooked in old wine barrels. It was delicious, giving a lightly smoked flavour. There are several other wineries along the road back to Queenstown which would serve as excellent options for guests.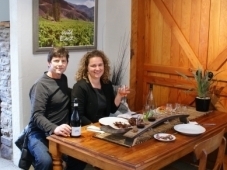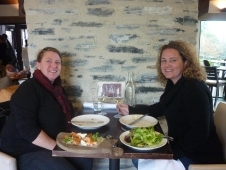 Fiordland
Fiordland is by far one of the most dramatic and scenically stunning parts of New Zealand. Listed as a United Nations World Heritage site in 1990 and described by Rudyard Kipling as the Eighth Wonder of the World, it is the largest national park in New Zealand covering 1.2 million hectares. But the area is somewhat remote. Whilst tourists can visit Milford Sound and Doubtful Sound by road, the other 13 Fiords in the region remain largely unvisited. In fact it is believed that there will be several areas within the National Park still untouched by humans.
In order to gain a better grasp of the region I took a tour of Doubtful Sound with one of the local tour providers. I started out from the small town of Te Anau, home to the second largest lake in New Zealand. During my brief time in Te Anau I managed to meet with a fantastic helicopter provider, who's owner and pilot is frequently called on during search and rescue operations, and a very knowledgeable local tour guide who also whisked me off for a visit to a very fine lodge set up in the hills overlooking the Lake ideal for guests and owners.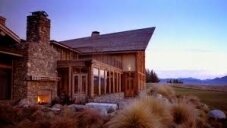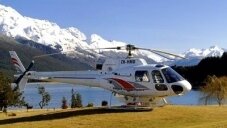 The trip to Doubtful Sound is a full day trip, involving coach rides and a boat journey across Lake Manapouri before reaching Deep Cove in Doubtful Sound. The weather was spectacular and the scenery stunning. During our three hour cruise in the Sound itself we saw penguins and seals and managed to pop into several of the arms in this Fiord. Whilst in Crocked Arm the Captain stopped the engines for a good five minutes and the silence was unbelievable – no noise other than the birdsong. I am so envious of anyone with a yacht that can cruise in the other isolated Fiords! On the return journey we stopped in at Manapouri Power Station, a feat of engineering when it was constructed in the late 1960s, it harnesses the power of the water in the Lake transferring it to Doubtful Sound.
The time spent here was fantastic, not only giving me a better insight into the region, but also introducing me to some very useful contacts who can assist with pilots, moorings and recommended anchorages. One of the local charter operators told me of a recent trip in Dusky Sound when a guest found some purple trading beads at the water's edge believed to be from the early 1800s. There is still so much undiscovered in this area it is remarkable. I anticipate that these invaluable contacts I made during my visit will enable visiting superyachts to really get the most out of a trip to Fiordland.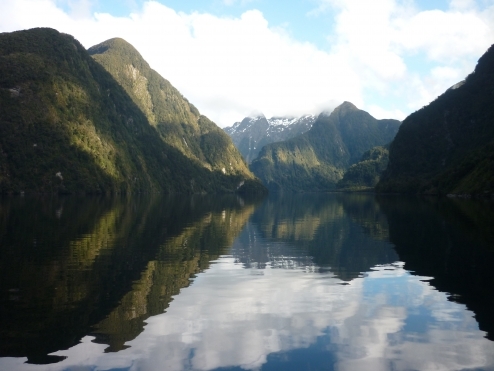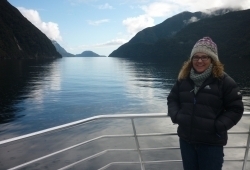 Wanaka
Wanaka can sometimes be overshadowed by Queenstown but it has so much to offer so I managed to spend a day here after returning from Fiordland. I arrived in Wanaka on a glorious day; the sun was shining over the crystal lake and there was not a breath of wind. During my brief visit here I saw two very good options as lodges, set in remote yet stunning scenery. I also met the Sales Manager for a recently opened lodge set in the mountains in a working farm station. This tented lodge is accessible only by helicopter and has proven so successful during its first year that guests have stayed on much longer than planned!
Wanaka has everything the discerning traveller would wish for including helicopter services, trekking, hunting and fishing and some superb dining with lodges boasting renowned chefs, some specialists in molecular gastronomy.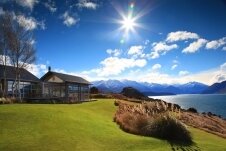 Overall the trip to the lower South of the South Island was exceptional. The region knows how to look after the VIP guest and has a wealth of activities and options. I have come back very enthused about this area and recommend it highly to any yacht wanting to offer their guests a very unique trip.
Rachel Harrison, Yacht Support Manager
August 2012