Integrated Marine Group are delighted to announce that their annual Charitable Golf Open will take place on Thursday 22nd November 2012 at Northshore Golf Club. Now in its fourth year the event has proven popular with visiting yacht crew and local marine sector employees alike. Not only is a fantastic day of golf guaranteed, it is a great opportunity for networking with local marine companies able to sponsor a hole or a prize. Last season we hosted 56 players and 14 sponsors many of whom will be joining us once again this year.

Run in teams using Ambrose rules the event involves a full day of golf on a spectacular course, with transportation to and from the venue, drinks and food on the course during the day, and nibbles at the prize giving. Look at the earlier articles in our News section on our website for more information on our previous Golf events.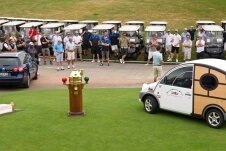 If you are keen to take part, be a sponsor, or both, more information is available on the fliers below:
Alternatively email Rachel Harrison via who will be happy to answer any questions you might have.