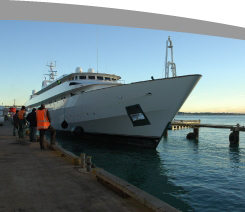 News
More yachting magazine features for IMG
Integrated Marine Group's workforce has a vast array of marine and yachting industry experience contained within the ranks and is often called upon for advice or comment on the big field of Refit and also Yacht Support along with other related topics such as advising yachts on itinerary planning in New Zealand and our neighbouring Pacific Islands.
Managing Director Mark Wightman shares some of his views in latest edition of the Superyacht Report making comment on the difficulties in quoting on refit works reflecting on his many years of experiences and lessons in this challenging field. Follow this link and head to page 89 for Mark's comments, or click the link below for a pdf version.
Last month too IMG staff featured in the Yachting Press, but in a slightly different guise. In a new marketing strategy it was decided to show more of the real, human side of the company and therefore two new adverts featuring Integrated Marine Group team members were born. In Issue 41 of Ocean Magazine Yacht Support Manager Rachel Harrison is shown as a hard working Yacht Agent with the slogan 'Consider it Done'. And soon to come out is the refit version, with our MD, Mark Wightman, sporting one of our blue hard hats and proving he does still get out to the coalface of our refit projects! These images can also be seen below and also in the slide show on our homescreen!