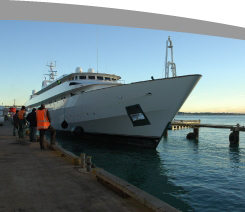 White Rabbit Echo
Integrated Marine Group was very proud to have been selected by White Rabbit Echo as the Refit Company of choice to undertake their exterior repaint and interiors works period. The company has become renowned for its skills and experience on the larger yacht projects but this project will become their largest paint project when completed.
White Rabbit Echo left her home port of Singapore, where she spends the majority of her time, specifically to conduct this work and arrived in Auckland in early January 2012. She first completed two cruises in the North Island of New Zealand with owners and guests, both of which were ably managed by Integrated Marine Group's very own Concierge team who ensured the guests truly enjoyed the spectacular sights and sounds New Zealand has to offer. Then, in late March, the refit got underway including the full repaint, interior refit, survey and underwater works.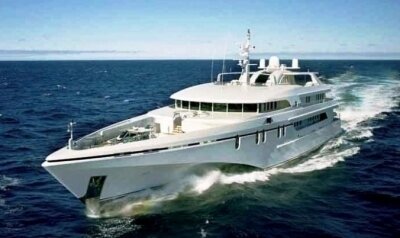 A bit of background on White Rabbit Echo
When White Rabbit Echo was launched in 2005 she was the World's first Trimaran Superyacht. She was commissioned from North West Bay Ships Pty in Australia following the success of their recent build, Triumphant. Triumphant is a 55m Trimaran passenger ferry which boasted supreme speed with great stability, and these were characteristics the owner was keen to see in his next yacht. But the owner also wanted to see low speed handling in order to enjoy his passion of fishing. Much of the two and a half year build in Hobart was therefore taken up with perfecting the hull shape and ride control systems. The Trimaran Hull, coupled with the four stabilising foils, were the solution which enabled White Rabbit Echo to not only out perform a monohull using the same power, but have greater stability both underway and at anchor.
White Rabbit Echo is 61.4m long with a beam, at the widest point, measuring 15.4m, and a draft of 3m. She is constructed predominantly of Aluminium and has a cruising speed of 16 knots. With such a wide beam there come added bonuses. The large deck area means that guest cabins and staterooms can all be located on the upper decks, providing fantastic views. She is able to accommodate up to 18 guests, and there is room to run with 16 crew if the Captain so chooses.
More information on this fantastic Superyacht can be seen on their very informative website: http://wr.sg/index.asp
Paint
Carrying out a full repaint of a yacht the size of White Rabbit Echo is no mean feat – indeed it is believed to be the largest paint project in terms of surface area undertaken in New Zealand to date at 3400m2. The refit therefore was to be carried out in two stages.
The first stage was carried out in the water at Silo Park Marina. The vessel was covered in a complete tent and for the first three months the topsides and superstructure were painted. This first stage is now complete and the IMG team are proud to be on schedule with top quality results.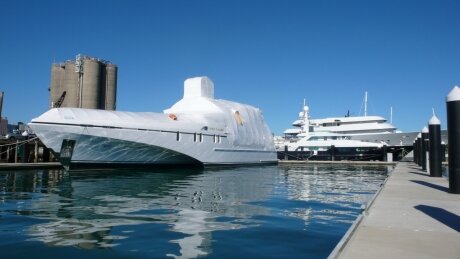 Stage two is currently being completed in Titan Marine's Shipyard nearby where she is currently hauled and completely tented. Being a large trimaran proved a challenge for blocking on the haul, but nonetheless successful. This second stage will take a further three months and will include a hull repaint, under water works and a survey.
Interior
The interior of White Rabbit Echo was originally designed by Sam Sorgiovanni Designs (who notably also carried out the exterior styling). There were a few challenges for the designer, posed by the considerations needed with a trimaran rather than monohull yacht.
Now seven years later the guest areas are getting a fresh new look. Throughout the entire length of the refit project the interior will undergo a thorough refit, remodelling and updating the guest areas with a significant amount of joinery, upholstery and furnishings in the Main Saloon and Dining.
After the refit White Rabbit Echo will return to Singapore so that the owner and his family can enjoy his newly refreshed and refurbished Motor Yacht.